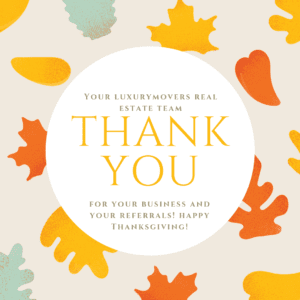 November is the last full month of autumn, and also serves as a reminder to be thankful.  We are especially grateful to our veterans and active service members – Happy Veterans Day to you! As 2018 draws to a close, our team has much to be grateful for this year.  Happy Thanksgiving!
If we can help you, your family, or your friends with your real estate needs, please contact us at info@luxurymovers.com or call us at 919-424-1867. Your LuxuryMovers Real Estate Team appreciates your business and your referrals!
Want more information about us? You can read about all our team members on our website
What's new with you?  Drop us a line and keep us updated.  We enjoy hearing from our clients past, present and future.  Feel free to tag us on Facebook Twitter, or Instagram– we would love to share your photos!
Read on to see what we have been up to:
Jen had a great October as it was her birthday – she just hit her 30's! (Ha – if you believe that, we have lots of fun stories to share!)  Her birthday was low-key, as she spent it with immediate family, visited the Holiday Inn Skye Tower Restaurant to take in the gorgeous views of downtown Raleigh at night, and had dinner at the Morgan Street Food Hall.  If you have not visited either of these, Jen suggests doing so!  Also, Jen's children were on track out from school, so she was able to take a weekend trip to New York City, where they did lots of sightseeing and visited family.  Finally, she was able to take another quick weekend trip to attend her cousin's son's wedding in Ohio.  Congrats BJ and Amber!
Jason had a great October! He was in Raleigh all month, except for a quick day trip to Atlantic Beach and Emerald Isle with his wife, Sam. In addition to his normal teaching and playing soccer, Jason has been working on building a desk for his office. He visited a wonderland of furniture hardwood at a place called The Hardwood Store in Gibsonville, North Carolina – if you're local and like that type of stuff, he highly suggests a visit!
Sharon had a great October with family, friends and working with wonderful buyers throughout the Triangle. She also got to enjoy a wonderful weekend at the Outer Banks with her Knightdale Sundays Riders Group, biking and enjoying the beach. She has also been busy planting new shrubs in her yard and working out hard with Camp Gladiator Boot Camps. Sam and Ryan have been busy at school, and Sam is also getting ready to start up another season with Alchemy Percussion Ensemble.
Erika's family had two birthdays in October. Morgan turned 24 and Marlayna had her 19th. Perry took some time to go visit his friends in Louisianna who work as underwater welders (SCARY!). Macy enjoyed the first track out of her senior year and feels like it was way too short! Jesse is happy as he can be, still enjoying his job in the Navy in Hawaii.
Hunter had a great October! He was able to spend some great time with his family and celebrate his mom's birthday. This is his favorite time of the year and he loves being outdoors enjoying the cold (but not too cold yet) weather.
October was full of fall family fun for Kristen and her family. This month was full of trips to the Pumpkin Patch, Trunk or Treat fun at Apex United Methodist Church, Saturday morning soccer games, and hosting multiple visits from family from Texas and South Carolina. Most exciting news of all, Kristen's sister welcomed a precious new baby girl into the world on October 12th!
Kort had a great October. His absolute favorite part was attending the North Carolina State Fair. This was the first time he was able to go and it did not disappoint. He and his family enjoyed just walking around, seeing exhibits and enjoying all the food. The deep fried Oreos were definitely his favorite.
Your LuxuryMovers gave back to… Salvation Army of Wake County,  Knightdale Chamber of Commerce and our local schools and houses of worship.
Real Estate News: The grocery store chain Wegmans will be opening a store in Wake Forest, as part of a proposed larger mixed-use project. This will be the fourth Wegmans in the Triangle. The first Wegman's in North Carolina is under contstruction in the Midtown East Shopping Center on Wake Forest Road in Raleigh, and is expected to open in 2019.
Did you know: According to the Computing Technology Industry Association, Raleigh offers "the best quality of life for tech workers, factoring in salaries, job availability, job growth and cost of living."
Considering a change?: Buying or selling? Do you have questions about the market? We have a video library on our website that addresses some of our most frequently asked questions. You can also find the videos on our YouTube channel.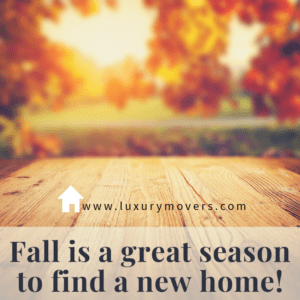 Fall is a great time to make a change! Visit our website to see our featured listings:  Your LuxuryMovers Listings
Small seeds of gratitude will produce a harvest of hope. – unknown