Happy Fall!  While it has been unseasonably warm in Raleigh and the surrounding areas it is only a matter of time and the cooler temps will be imminent.  Cozy sweaters, campfires, football season, pumpkin spice, apples, cider, changing foliage – an explosion of reds, yellows and oranges to name a few of the season's best! What is your favorite thing about Autumn?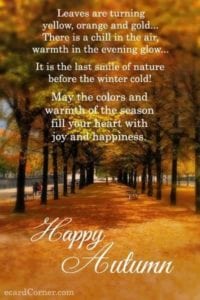 Your LuxuryMovers Team wanted to personally extend our thoughts and prayers to anyone affected by the devastation Hurricane Florence brought with her recently.  While Raleigh and the Triangle area were spared for the most part many of our neighbors were not as fortunate.  There is about two months left in this years hurricane season- are you prepared?  Do you have a readiness plan in place?  Do you have a hurricane kit?  An evacuation course?  Please don't forget your pets and make sure everyone within your home knows the process should disaster strike.
Do you or anyone you know need our assistance?  With over 30 years of experience in the Triangle real estate market we would welcome the opportunity.  Please contact us at info@luxurymovers.com or call us at 919-424-1867. Your LuxuryMovers Real Estate Team appreciates your business and your referrals!
Want more information about us? You can read about all our team members on our website
What's new with you?  Drop us a line and keep us updated.  We enjoy hearing from our clients past, present and future.  Feel free to tag us on Facebook Twitter, or Instagram– we would love to share your photos!
Read on to see what we have been up to:
Jen, along with LuxuryMovers, wanted to take a moment and thank all of the first responders who have been so proactive helping with the aftermath of Florence.  Jen and LuxuryMovers hope you and your family are all well and safe.  Jen's youngest child's school has decided to postpone their annual fund raiser for their school and take this time to adopt a local school in Wilmington-Mary C. Williams Elementary.  If you have new items you would like to donate or would like to make a monetary donation, please let Jen know and she can put you in contact with the correct person.  Or, if you know of an organization that could use volunteers and need help, please let us know.
Jason had a fun September!  He spent a few days in Nags Head around Labor Day with some friends, as well as took a trip to Bayfield, Wisconsin, to visit his wife, Samantha's, extended family.  The town is right on Lake Superior and while a little on the cold side, was beautiful nonetheless.  Jason continues to teach and play soccer in his free time, as well as invest in future heartbreak for his beloved Washington Redskins!
Sharon had a quiet but busy September.  In between working with her clients all around the Triangle,  Sharon has been enjoying the cooler weather, while preparing and training for the Outer Bankers 5th Annual Century Ride for Life benefitting Autism and Bikes for Kids.  She is super excited for this big event that she will be attending with her friends from the Oak City Brewery Run Club.  She has also been training with Camp Gladiator Training Camps in the Triangle, which has been super fun.  She also enjoyed a fun weekend in Asheville visiting family and spending time with friends in Raleigh and Knightdale.
September has been great for Erika!  Jesse is doing well in Hawaii and Perry is now talking about following in his brother's footsteps and joining the Navy himself!  Marlayna has started her freshman year at UMO and is enjoying being the team's starting goalkeeper.  Lots of great saves so far!  We are looking forward to a beautiful autumn!
Hunter had a great September.  For the Labor Day weekend, he got to spend time with friends in the great city of Charleston, SC.  He also got to celebrate his younger brother's birthday and spend quality time with his immediate family.  He is looking forward to his favorite season of the year-fall!
Kristen is thankful for the memories September brought.  She spent most weekend mornings at the soccer fields with her family watching her son play the sport for the first time on a team.  It's a great thing when community comes together and supports their youth.  She's excited to see her son love learning a new skill while being surrounded by great coaches and new friends.
September was a fun month for Kort.  He got the opportunity to watch his dad's football team play N.C. State in Raleigh over Labor Day weekend.  James Madison came up short but gave the Pack a good fight.  Later in the month he saw his Alma Mater, East Carolina take on and takedown the North Carolina Tarheels in Greenville.  It was a fun time reuniting with old friends and teammates and he is looking forward to doing it again soon.
Your LuxuryMovers gave back to… Salvation Army of Wake County,  Knightdale Chamber of Commerce and Knightdale gymnastics.
Real Estate News:  Hockey season is underway and the excitement for the Carolina Hurricanes continues locally.  In the market to buy a mansion?  Head Coach Rod Brind'Amour's home is for sale!  On nearly two acres of land in a gated community on a quiet cul-de-sac,  it is a custom built estate with 5 bedrooms and 8 bathrooms.  Lower level of the home has nearly 3,000 feet of living space alone complete with wet bar, kitchenette, home gym, theater (with seating for 12) and a bonus room as well.   The backyard is amazing and a dream for the sports enthusiast with a versatile sports court for basketball, tennis, hockey, volleyball and badminton.  More luxuries than we can mention on this gorgeous home!  All this could be yours for a mere $3,000,000!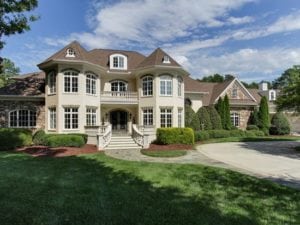 Did you know:  Andrew Johnson, The 17th President of the United States was born and raised in Raleigh? The house he is believed to have been born in stands in Mordecai Park.  Fall is a great time of year to get outside and go for a walk.  Why not go to the park and look at the small one story structure!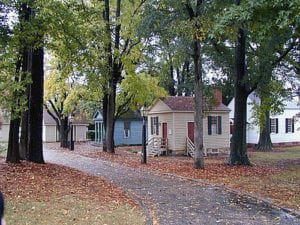 Video library: Buying or selling? Do you have questions about the market? We have a video library on our website that addresses some of our most frequently asked questions. You can also find the videos on our YouTube channel.
In this video, Erika Frutiger discusses who you should contact first – a lender or a real estate agent?
Our featured listings:  Your LuxuryMovers Listings
"I'm so glad I live in a world where there are Octobers" — Anne of Green Gables