It is September already and Fall is upon us! Labor Day weekend is a tell tale sign of Summer's end! Our team continues to be busy working with our buyers and sellers.  Wondering what we have been doing to close out Summer? You can read about all our team members on our website.
Thank you to all of our clients for your continued support, your business and your referrals! We can't express enough our appreciation for the role each and every one of you play in our continued success as a leading team in the area.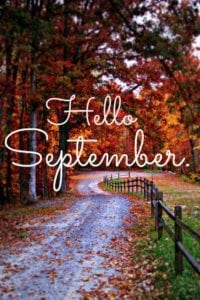 Do you know anyone that needs advice about the Triangle real estate market?  Please contact us at info@luxurymovers.com or call us at 919-424-1867.  Your LuxuryMovers Real Estate Team appreciates your business and your referrals!
Want more information about us?  You can read about all our team members on our website 
What's new with us?
Read on to see what we have been up to outside of real estate!
School has begun and so have the activities for Jen's family! Before the soccer season started Jen and family were able to sneak in a quick weekend to Williamsburg, VA to visit the sites and, also, visit Busch Gardens/Water Country USA with their family friends, The Cappelletti's. Jen's favorite ride was the Griffon Roller Coaster. Have you ridden it before? — Yikes!
Jason had a great August! Samantha and Jason went to visit friends in Bozeman, MT for a long weekend and had a blast! It is one of their favorite places to visit (during the summer, that is!). Jason also went camping for a weekend with some long time college friends, which was really fun. Outside of those weekend trips, he's been selling real estate, teaching, playing soccer and trying not to lose golf balls all over some local courses as he learns the sport a little better!
Wow!  August went by fast and furious for Sharon and her family. Ryan has flown the coop and is off to college at UNC School for the Arts. Its been an adjustment for Sharon, but Ryan is in a great place!! Sam is finishing up his second season with Carolina Gold Marching Corp and has started his second year at Wake Tech. Sharon has been enjoying time with friends, attending a few local concerts, and capped off the month with a Fantastic Weekend in Wrightsville Beach and Southport, NC boating! She has also been working out hard with her new Membership to Camp Gladiator and loving it!!
Erika's family had a fairly low key August. Marlayna got off to her freshman year at University of Mt Olive and has started studying and playing soccer. They have already had a couple of games and won them both! Jesse has been out at sea (in the Navy) working on some drills and maneuvers…cool to hear about his experiences! Erika got away for a girl's weekend at Wrightsville Beach and had a blast!
Hunter had a wonderful August. He recently was able to visit the San Francisco Bay Area to attend the Campbell Trophy Summit Leadership Conference with some of his old football buddies. Aside from that he is excited to watch his younger brother start playing his first football season at NC State this fall!
August was a fun filled month that was packed with family fun. Kristen celebrated her birthday surrounded by her family and extended family on August 3rd. Her husband's birthday was celebrated just two days later. Kristen spent August being busy with Open Houses and showing new clients properties all over the county. One of her favorite August memories was a day spent at Jordan Lake with her family and her sister's family who recently moved to the Wake County.
Here we grow again! Please help LuxuryMovers in welcoming Kort Shankweiler to the team. Kort is a buyers agent and is ready and able to help you with your real estate needs! Kort spent the month of July and August doing some traveling. He and his wife took trips to Colonial Williamsburg and Washington D.C. Being lovers of baseball, while in Washington, Kort and his wife attended a Nationals game. This marks another stadium off in their pursuit to visit them all. They saw the Braves take on the Nationals. It is the start of football season and Kort is excited to follow his dad and the James Madison Dukes this year as well as cheering on his ECU Pirates!
What's new with you?  Are there  any big events in your lives that you would like to share with us – weddings, anniversaries, new additions to your families? Please share what is going on in your world- we love hearing from you! Feel free to tag us on Facebook, Twitter, or Instagram– we would love to share your photos!
Your LuxuryMovers gave back to… American Red Cross and Knightdale Chamber of Commerce.
Real Estate News:  A North Raleigh mansion near Falls Lake broke the record for most expensive home sale in Wake County, going for $5.5 million in July. The home, at 1624 Morning Mountain Road, is over 12,000 square feet.  Now that is impressive!
Did you know:  Sir Walter Raleigh's family home is for sale but it is a long commute from Raleigh, NC.  According to a real estate website in the UK a manor once owned by Sir Walter Raleigh is up for sale.  Fardel Manor is described as an 11th century Saxon Estate.  This home together with a chapel and service cottage is sheltered by superb gardens and has 4 bedrooms, a library, dining room, lake, swimming pool and special greenhouse for growing oranges all situated on 5 acres on the edge of Dartmoor.   The significance of this family home you ask?  Why the North Carolina General Assembly named the state capital in honor of Sir Walter Raleigh on Dec. 31, 1792, according to the City of Raleigh.  What would it take to own this piece of history?  At least 2,000,000 pounds or in excess of $2.5 million American currency.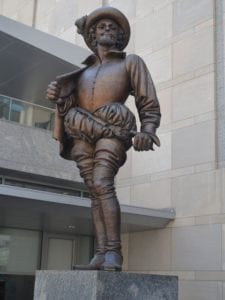 Video library: Buying or selling? Do you have questions about the market? We have a video library on our website that addresses some of our most frequently asked questions. You can also find the videos on our YouTube channel.
In this video, Hunter Williams explains who pays realtor fees 

Our featured listings: Your LuxuryMovers Listings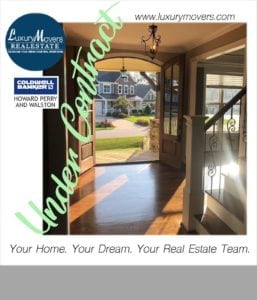 This will soon be Home Sweet Home in Apex for Kristen's clients.  We couldn't be happier for them and would love to help you find your dream home as well.
"A house is made of walls and beams, A home is made of love and dreams" ― Unknown