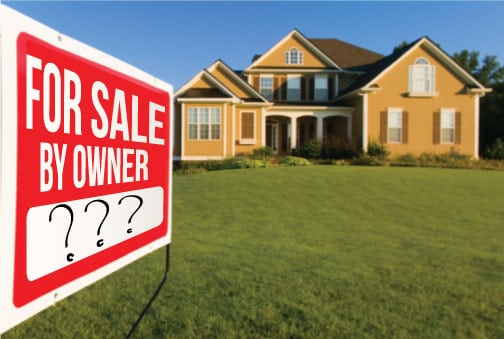 Why Hire an Agent To Sell Your Home?
If you are contemplating selling your home and are thinking about going at it alone through "For Sale By Owner" (FSBO), consider this:
When you list your home with a realtor, you expose it to all agents that currently have qualified buyer clients through the Multiple Listing Service (MLS).  Buyers rely on their realtors to provide them with possible houses, and if your home is not listed, there is a high probability it will go unnoticed.
When selling, the key phrase is not location, location, location. The key is price! An experienced realtor will be able to perform a detailed market analysis, which takes into account your home's condition and any improvements you might have made, as well as price it correctly from the beginning to drive ready, willing, and able buyers to your home from the very start.
Listing your home as a FSBO sends a signal to the market that you are not serious about moving, thus making the home sit on the market longer.  Speed is key, and the longer a home sits, the less likely it is to sell.
An experienced agent will relieve advertising stress on the owner through knowledge of where, when, and how to advertise a property. An agent can create a "buzz" and build up its release on the market to draw immediate attention and foot traffic to the property.
Professional agents have a broad social media outreach through personal and professional connections, and have the experience to utilize these fast-changing platforms into more exposure for your property.
A seasoned agent will likely be able to net you more money through skilled negotiating, knowledge of the market, and past experience.  While you may save on the commission, the net amount you walk away with is often times lower when listing your home by owner.
Experienced agents can negotiate items outside of price, such as non-refundable deposits, important dates, financing concerns, repairs, etc. which could drain you of potential savings.
The listing, negotiation, and contract process is long and arduous.  Do you have dozens of hours of free time per week to market and sell your home? Are you able to take off time from work or cancel plans every time someone wants to see your home? Professional agents devote their full time work to preparing the home for sale, marketing the home, negotiating the inspection and repairs, working through any unexpected issues that might come up at the closing table or with lenders, and helping navigate the closing process and paperwork.
Recent studies show that 92% of all home buyers use the internet to help them in their home search. Online classifieds are used heavily by scammers, criminals, and dangerous people you do NOT want to be admitting to your home. Using a licensed real estate agent to list your home means your home will be accessible by licensed professionals only. 
FSBOs accounted for 8% of home sales in 2016. The typical FSBO home sold for $190,000 compared to $249,000 for agent-assisted home sales.
Questions? We would love to answer them! Contact us at info@luxurymovers.com or call us at 919-424-1867.
Your Home. Your Dream. Your Real Estate Team.