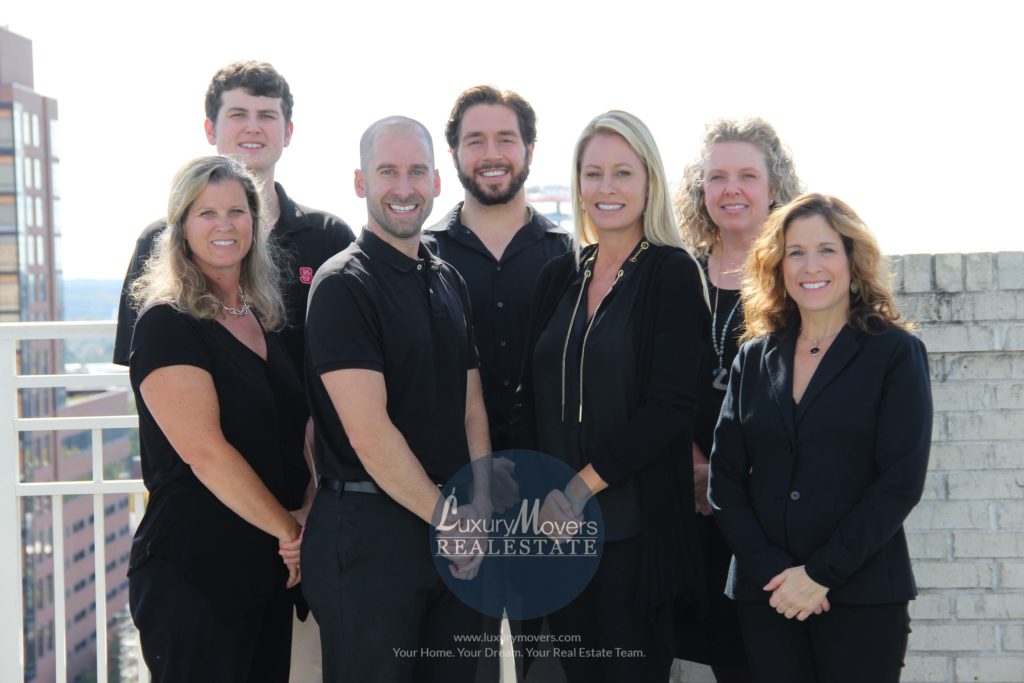 Thank you for allowing us to stay in touch with you!  March is here, and spring is just around the corner! We have had springlike weather for a few weeks in the Triangle. Happy St. Patrick's Day!
What's new with you? Are there big events in your lives that you would like to share with us – weddings, anniversaries, new additions to your families? We would love to hear what is going on with you! Contact us with your photos, updates, and news at leads@luxurymovers.com.
What's new with us? See what we have been up to outside of real estate – world travels, fun in the sun, family time, and more! Interested in what's going on in the Triangle Real Estate market? We have news about that too!
Jen was able to take a long weekend trip to her friend Nikki's house in Key West, where she and several others got together to celebrate Lucille's upcoming nuptials.  Jen and friends were able to go on a sunset wine tasting sail boat cruise with Danger Charters, were able to eat at some great restaurants:  915 and Bagatelle's, visit the Key West Art Gallery on Duval, which features some fantastic artists, listen to some great live music at The Green Parrot, go to a show at La Te Da's, and just soak in the warm weather.
Jason had an awesome February! He finished up his first time teaching at NCSU and really enjoyed it, as well as started his next semester at Wake Tech for his real estate investing class. He and his wife also went to Nepal for a week to celebrate their friends wedding and had an absolute blast! Except for the long flights, it was a great trip. On the way back, they also stopped over in Dubai for 36 hours, which was an experience as well. Outside of those great things, Jason continues to play soccer and work on his flip properties when he has time outside of selling real estate!
Sharon and her family had a nice February. Sharon got to enjoy a fun trip with some friends to Florida and got to see the Clearwater Beach area for the first time. They had beautiful weather and a wonderful time. The beaches were beautiful and the sunsets gorgeous. It was great to get away with some friends. She also enjoyed a surprise visit from her old friend Dan from Colorado. Sam is doing great at his second semester at Wake Tech, working at his new job and practicing or competing every weekend with his Percussion Ensemble Group – Alchemy. Ryan had another successful show running the sound for Heritage High's performace of Legally Blonde and has been busy as usual with several other shows and school. Sharon is really looking forward to March, daylight savings, and watching spring come alive in Raleigh!!
Erika's family was relatively low-key this February. Her husband, Darrell, had a birthday so they celebrated with food…lots of food! Perry has been offered a record label and is, of course, excited and stunned at the same time! Macy and Marlayna will be starting the outdoor soccer season for Franklin Academy, with this being Marlayna's senior year. Macy is making her debut after a three year break from soccer. Morgan has enjoyed her first month with Bank of America and thinks it will be a good career fit. Jesse is (still) toughing it out in the navy in Kaneohe Bay, Hawaii!
Justin had a wonderful February. Other than spending plenty of time with his buyers, Justin was able to enjoy some time with friends and family. Justin enjoyed watching the Super Bowl, although was sad to see football season go. He also enjoyed the warm weather we have been experiencing and looks forward to continued warmer weather this spring!
Hunter had a great February. Aside from working with his clients, he was able to spend time with friends and family over the weekend and enjoy some of the snow. His younger brother recently commited to play football at NC State, so he will be cheering on the Wolfpack for the next four years (not really – Go Deacs!)
Your LuxuryMovers gave back to…American Red Cross, Alzheimer's, Goodwill of the Triangle, Rand Road Elementary, Railhawks, Salvation Army of Wake County, American Red Cross, our houses of worship, and YAKS soccer club.
Real Estate News: Publix grocery store is coming to Downtown Raleigh! The new Kane Realty group development will be located at the corner of Peace St. and West St., just a block away from Glenwood South.
Did you know? The most expensive rental in Raleigh was just listed at 301 Fayetteville St. for $5,877 per month.
Please visit some of our online sites: Our Interactive Website     LuxuryMovers Facebook     Our Google+ Page
Click on all listings here: Your LuxuryMovers Listings
Don't stop when you're tired. Stop when you're done. – Unknown